VFP Therapy (Vibrational Frequency Programming) is a new experience that may be delivered as a therapy rather than an experience?! As a therapy we use it to support those who are severely affected by anxiety and stress. VFP Therapy is for those who suffer from panic attacks or who experience anxiety and stress to such an extent that they struggle with sleeping; and find it very difficult to focus or handle any challenging conversation. The slightest sense of 'conflict' requires them to get up and move or become defensive / challenging. Their sympathetic nervous system (fight or flight) is constantly on – and this drains then physically, mentally and emotionally.
VFP Therapy It is not a 'talking therapy' like CBT (Cognitive Behaviour Therapy); and it does not seek to work with a person'e negative influencers. It focuses on the now and positivity through safety, trust and the freedom to relax and do nothing – indeed, LESS IS BEST!  It establishes new positive patterns and cycles of behaviour that retune the Reticular Formation to align the sub-conscious with new positive experiences / being.
This solution increases an individuals Optimal Arousal Zone; increases resilience and facilitates positive social interaction and learning – it is suitable for anyone at any age!
While 'mainstream' solutions help some, even with Epilepsy, ODD, ADHD, Autism or PTSD  – there are some that need something different than the 'norm' – because for the most part, the 'norm' simply ticks the boxes and the same problems repeat  – A NEGATIVE RELAPSE CYCLE OCCURS . . .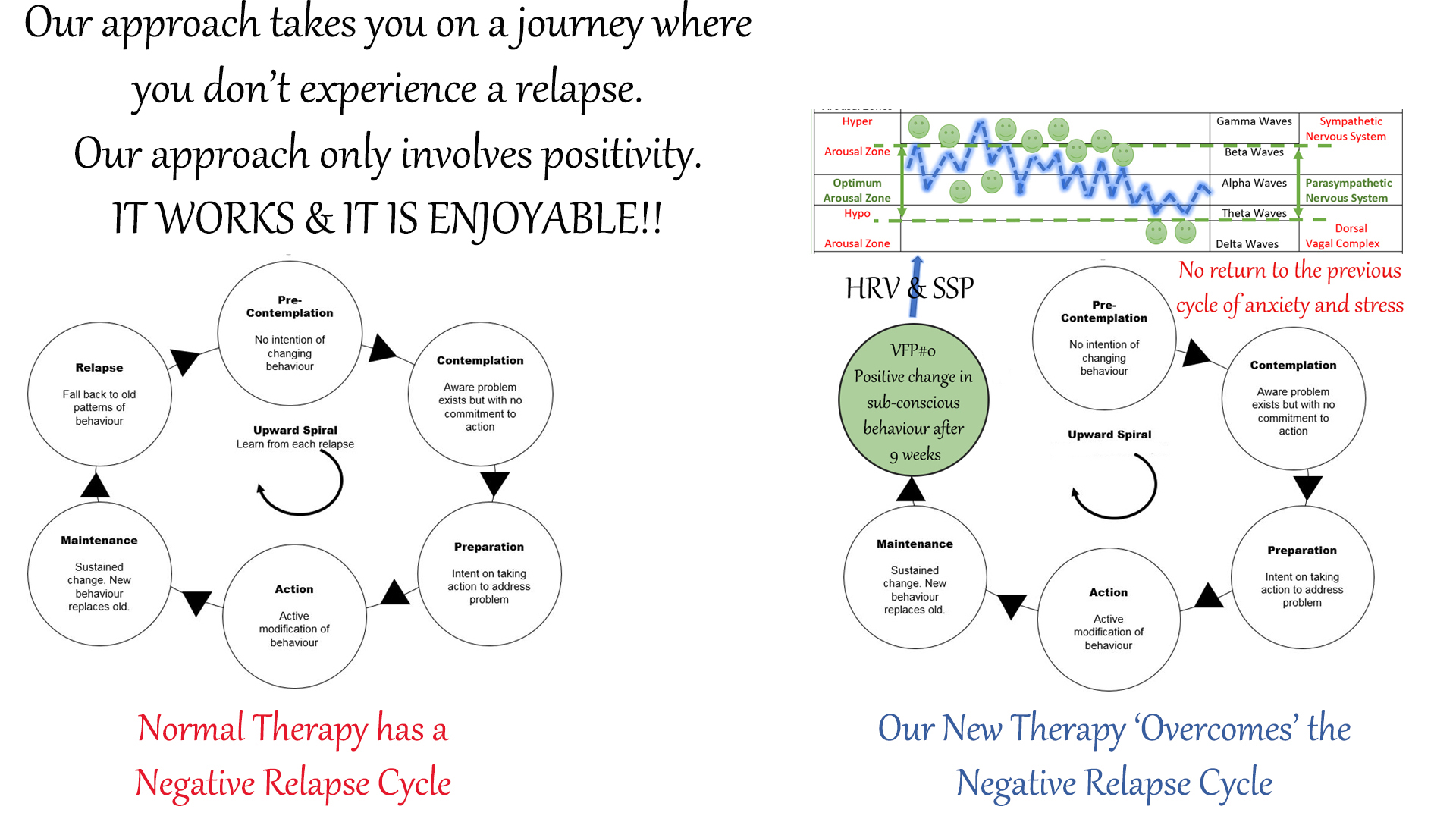 For those who clearly need a NEW and "advanced therapeutic experience from someone who can deliver results" – VFP Therapy will deliver!

So, if you feel the time has come to put a solution in place that deals with ALL THE NEGATIVE EFFECTS THAT MAKE EVERYONE'S LIFE A MISERY – THEN READ ON . . .
If you support or care for someone, be it an elderly person, or a child or young person with:
Social, emotional and attachment disorders
Auditory hypersensitivity
Body disorganization
Nervous system dysregulation – panic attacks
Learning, cognition and attention difficulty
Sensory processing differences
Stress-related physical conditions / addictions
Or put another way – do you have to support individuals on a small group or 1:1 basis; do they struggle to focus or simply cope with anything; do they sometimes appear just deliberately awkward or disobedient; do they 'seem to freeze or go still and silent' or hide, walk away, run off or show challenging or strange behaviour; do they give things away, show a lack of care with things that were personal or throw / rip things up and cause stress to family, friends, care staff, educational staff or work  / school colleagues?
Are you concerned for their wellbeing and safety. Are you also getting a little stressed yourself having to   review safeguarding, risk assessments, EHCP's, PEP's and prescription drugs?
VFP Therapy – you need to try it  – because it works!
Through positive emotional (heart) and mental (brain) stimulation, we activate the Parasympathetic Nervous System and Reticular Formation to create new positive patterns / cycles of electro-firing neurons that positively influence the sub-conscious  – "Neurons that fire together, wire together" – this is why VFP Therapy is so effective – IT WORKS BECAUSE IT CAN'T DO ANYTHING ELSE –
This is scientifically referred to as Hebbs Law –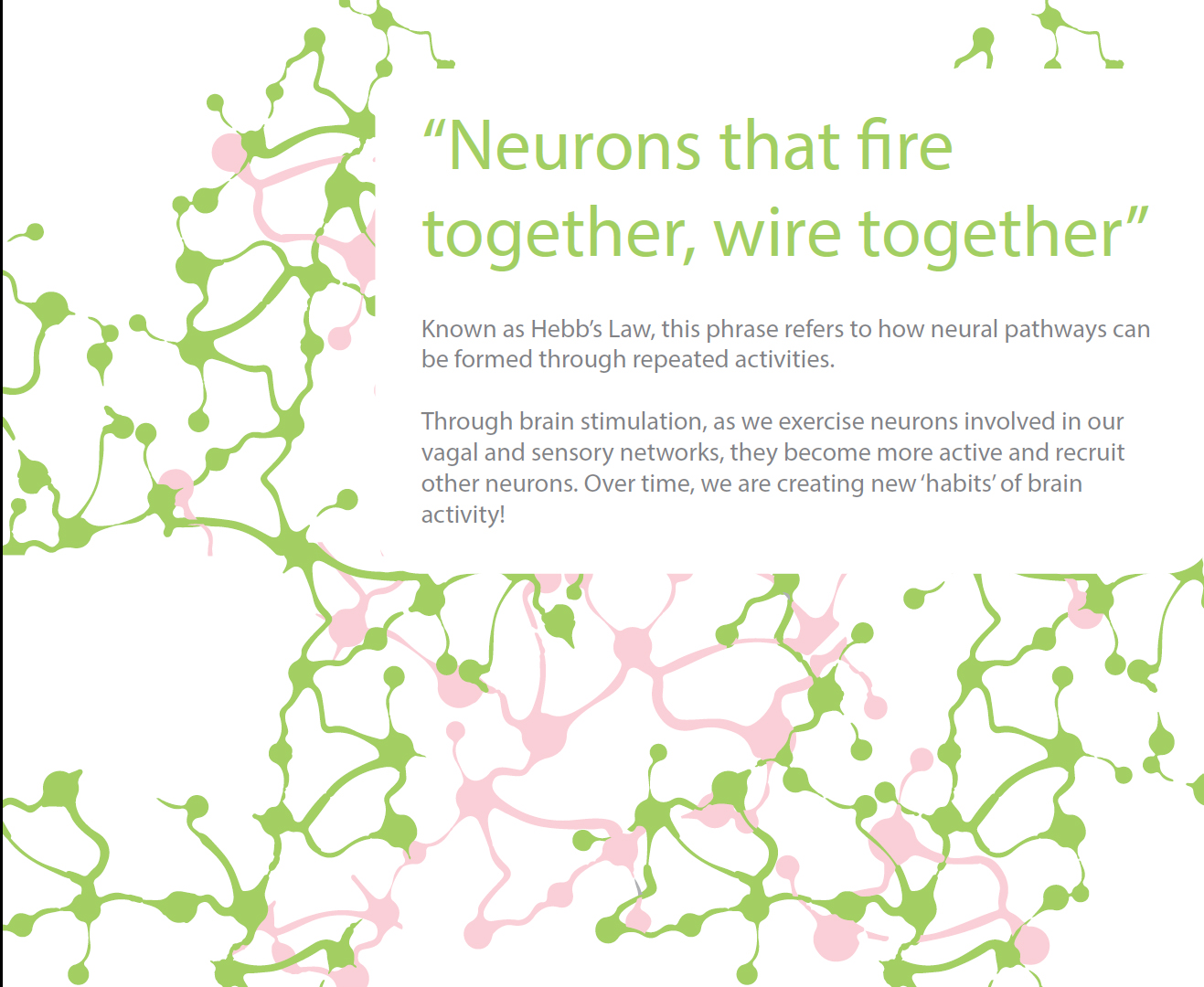 VFP Therapy combines many other 'therapies / experiences together' and introduces them on a linear time line subject to each individuals needs and progression.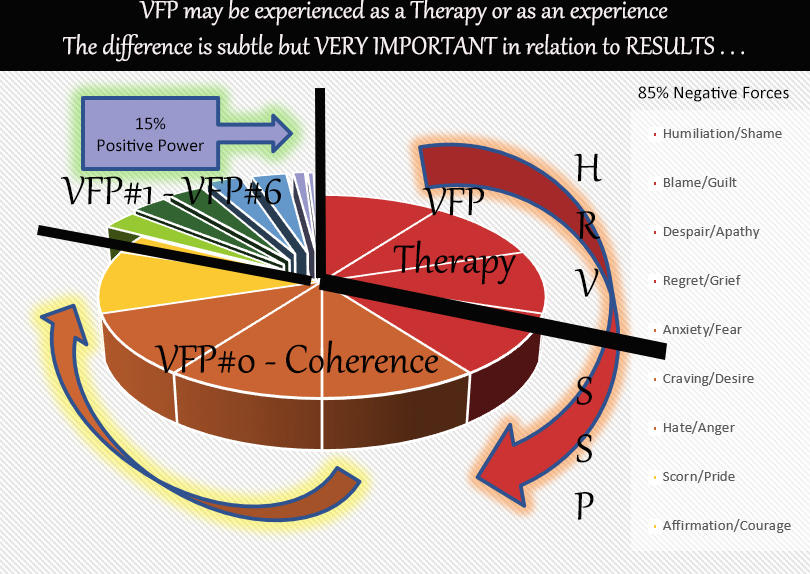 It is a very focused and 'micro-managed' therapy and is only delivered on a 1:1 basis. It is the attention to detail and personal tuning that distinguishes VFP Therapy from VFP#0 – Coherence.
If you have any questions simply ring Marcus Pearson – 07931 326 164