Welcome to lesson 4 – How to tell the truth and levels of consciousness.
Before you start this lesson (especially if you have clicked through without taking a break after lesson 3) – please listen to our audio clip about the truth and purity of being . . .
If you are reading this then it is likely you are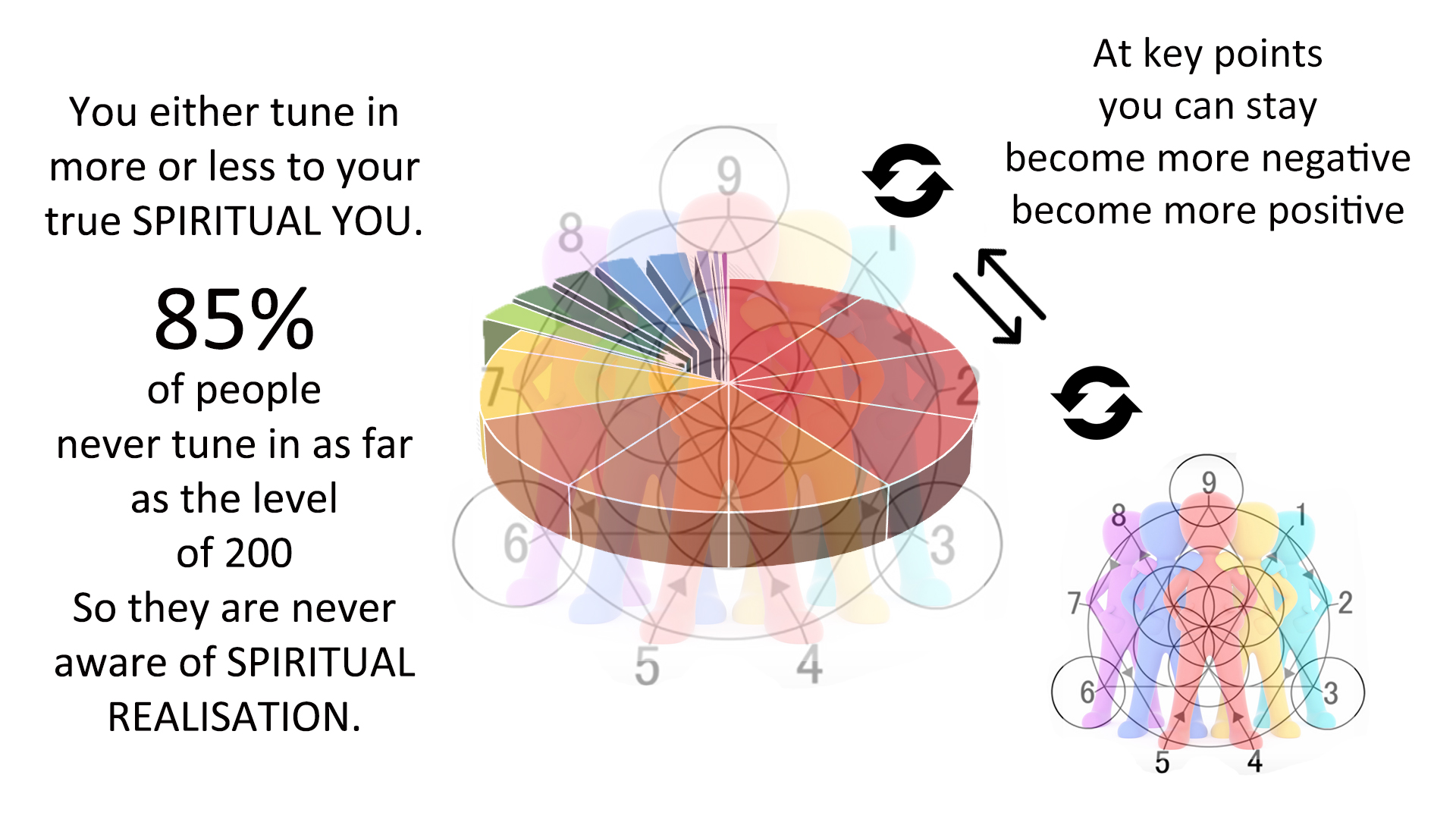 Your cycles of movement; what you do, how you do it and how often you do it – this is what determines whether you tune in more or less. Knowing how to change from negative to positive – to stop being what you don't want and to be what you desire – that is an obstacle facing many people. A BIGGER PROBLEM FOR MANY PEOPLE IS THEY DON'T EVEN PERCEIVE THAT THE WAY THEY LIVE IS NEGATIVE (and the BIGGER THE EGO the less they perceive it).
Our next lesson will illuminate how you may overcome this (even if you don't feel the need – lol).
Remember, you were created to experience imbalance – you just need someone to trust, so you can be unbalanced AND become positive – YES YOU CAN DO THIS – THIS IS THE BIGGEST HIDDEN SECRET THAT HOLDS BACK MANKIND. You just need someone who knows how to guide you towards SPIRITUAL BEING REALISATION – and on the way, perhaps get will you 'get out of the negative forces / cycles' that create stress and inflammation.
To achieve any progress from below 100 up to 200; even for those seeking to rise from 200 up to 250 or even 500 and beyond; it's important to nurture existing and new relationships with purpose.
Imagine being so committed to help yourself or someone else – so caring and loving; that you are prepared to discuss with someone in your family or a friend or even someone you have not met (and yet know because you tune in) – "how might we best co-exist for the creative benefit of all". This would of course include yourself, and the main aim of this would be to overcome that which is holding you back from moving on to higher vibrating frequencies. This makes sense – because it is the truth!
The most suitable guide would be someone that supported you to find faith in yourself. You may have to become more accepting of your environment – so you can find a place for creating 'sanctuary'  – this may be a physical place or it may be 'time' you find for yourself to find 'inner safety and peace' – without such an environment / time then cycles of change will be more difficult to achieve. Do what you can (with your guide) to create the conditions in your life so that your spirit, mind and body can tune in to meet all your needs. 
This lesson only touched on levels of consciousness  – please study the 'Clinically Proven Map of Consciousness' (above) from Prof David Hawkins –
Can you identify one or two kind of a cycle(s) you are in?
Can you write down how you think (mental ) and feel (emotional) during these cycles/patterns of being.
This is the key learning point of this lesson;
it might look daunting because you may see emotions or thoughts in front of you that you prefer to hide (even from yourself); or you may be in a state of positive bliss and are seeking out opportunities to share your passion and purpose with others  – THE KEY LEARNING POINT FROM THIS LESSON IS THAT YOU ARE NOT ALONE – PLEASE PRINT THIS SHEET OFF AS YOU MAY WANT TO USE IT DURING THE NEXT FEW LESSONS – 
To support you with this I will leave you with the following to further think on . . .
Your true SPIRITUAL SELF maintains communication with GOD through cycles of natural balance. You (the spiritual you), were created to communicate the experience of life as a physical being (life is imbalanced movement) – so you continually challenge your physical, emotional and mental energy fields (physical being) with conflict/imbalance so this may be achieved. If you did not provide imbalance then your physical body would experience less movement and less life (it would limit the optimum renewable function of its cells, experience stress and inflammation and die). As a spiritual being your quest for 'new creative life experiences' is never ending; and after your physical energy fields die you take up a new physical form to continue existing. With regard to this aspect – my physical energy fields have been informed by myself (the spiritual me), that I 'encompass' the physical energy fields (physical, emotional and mental beings) of another 'human life' shortly after birth – and this process continues.

This is written to support your questioning of why you appear to experience challenges in your life, for some this is just as things seem to be going well; for others it seems to be one challenge after another (a bad cycle). Sometimes the greatest challenges provide the greatest learning experiences – or more significantly opportunities that may be taken or not seen!

You are going to encounter challenging circumstances that appear setbacks as you make progress – "be ready for them and smile"!

Marcus Pearson
"The greater part of our happiness or misery depends on our dispositions and not on our circumstances. We carry the seeds of the one or the other about with us in our minds, wherever we go. It is up to us to choose."
Martha Washington (1731 – 1802)
Martha Washington (1731-1802) was an American first lady (1789–97) and the wife of George Washington, first president of the United States and commander in chief of the colonial armies during the American Revolution.
Lesson 5 will provide PERSPECTIVE and ILLUMINATE THE PATHWAY to ever higher vibrating frequencies for you. I am hoping the lessons so far have prepared you for what is to come.
I have made a short video clip to further support and summarise this lesson – enjoy . . .
Reminder about our FREE BONUS OFFER & COLLABORATION:
Click here for full details – YOU ARE BEING OFFERED THIS FREE OF CHARGE!
After lesson 5 I will be providing further 'supporting insights' that help clarify what you are about to discover.
For lesson 5 – Understanding the holistic process of spiritual being realisation –