VFP (Vibrational Frequency Programming) is a POSITIVE WELL-BEING EXPERIENCE. It is a way of being, doing, interacting and communicating that is different than a normal approach to life – being different requires courage and is not about ticking boxes.
Very few great leaders have used an approach similar to VFP – however, Nelson Mandella was perhaps the most significant one who did – and we have tried to incorporate his broad intelligence within aspects of our initiative:
Madiba (Nelson Mandella):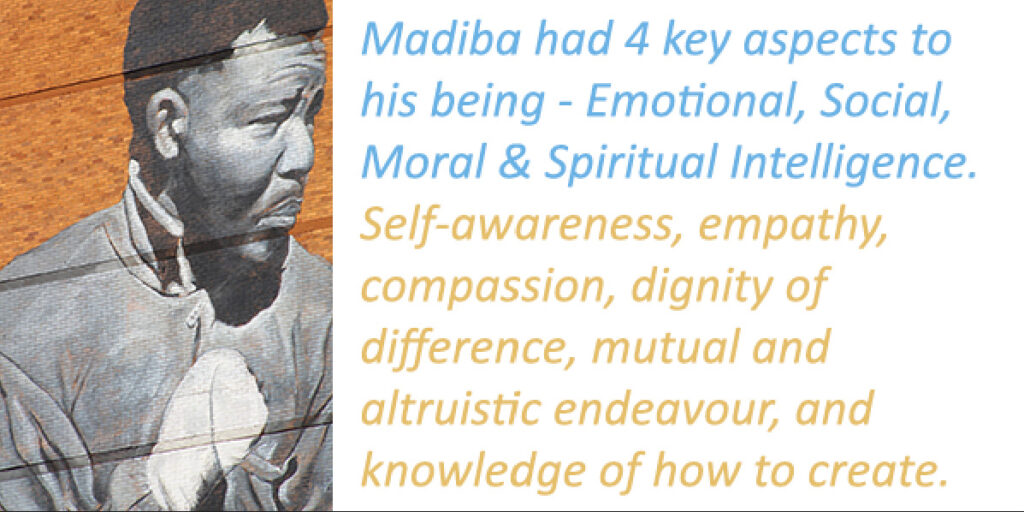 VFP shares similar traits with Madiba. Moreover, it is not the theory of these intelligent aspects that needs to be learned, it is the INTEGRITY of being and doing through experience.
INTEGRITY and Polarity Integration:
Integrity and integration are words that weave together what is needed to practically achieve more POSITIVE WELL-BEING. Perhaps a better phrase to describe the traits of Madiba rather than intelligence, would be INTEGRITY and Polarity Integration.
Integrity is the practice of being honest and showing a consistent and uncompromising adherence to strong moral and ethical principles and values. In VFP, integrity is the honesty and truthfulness or earnestness of one's actions in line with natural cycles and authentic creative altruistic manifestation.
Our use of the term Polarity Integration simply means integrating different aspects of life (potentially opposite traits). Polarisation is to cause something, especially something that contains different people or opinions, to divide into two completely opposing groups. This can also be applied to magnetic poles, electrical, chemical, molecular, and cosmic polarities as well as human thoughts, emotions and actions.
Higher Wisdom:
Interestingly, the 33rd degree of masonic learning (a higher wisdom normally only shared with a select few), specifically refers to the need to maintain the integrity of polarisation as individual magnetic energy fields in order to protect us from dis-ease.
Referring to all aspects of life (physical, mental, emotional and spiritual in relation to their magnetic integrity is beneficial (AND ONE THAT WE WANT TO FOCUS YOU ON).
The earth has a magnetic field, that when fully functional (full of integrity), is capable of protecting us from external stressors and dis-ease, such as radiation and collision form cosmic debris. Similarly, humans have a magnetic energy field (multiple fields that combine into a larger one) that also protects us from radiation and dis-ease, trauma and chronic stress. When the integrity of our efforts diminish our ability to integrate the polarities that exist in and around us, then our magnetic energy shield is diminished. This not only makes us weaker, it also limits the power of our outward potential positive resonance.
Expanding on this focused perspective; when people share their magnetic fields for the benefit of others (this is known as mutual and altruistic endeavour through positive resonance), it creates larger magnetic fields. This not only provides a shield against destructive forces, but the vibrating energy may resonate outwardly more for the benefit of others – further increasing positivity and protection.
Over 85% of what we experience is a negative force (a diminished magnetic field)!
On a practical basis what people have to live with and put up with and operate within is a negative controlled force. Most people are not aware of, and if they are, do not know how to manage the integrity of their personal magnetic energy field. Even fewer people know how to utilise and resonate a greater magnetic field from a team of people. This lack of awareness, combined with procrastination and acquiescence, leads to people existing within an umbrella of negative magnetic energy.
Shumma – What IF?
What if VFP was introduced into an environment where individuals and a team could create a positive magnetic field (MF) – because everyone was focused on nurturing the integrity of their own personal MF, and the MF of their whole team and environment?
What if this success could be resonated with another team – and then another?
What if this overall success could be used as an example to a wider community?
What type of environment might be suitable?
Does an environment exist where children and young people are in a learning environment that is inhabited by the same people who they spend social, leasure, and pleasure with. Is there an environment where adults can learn, and work, and whilst pursuing personal development also contribute to a team effort. This is the type of environment that would be suitable for an INTEGRATIVE WELL-BEING INITIATIVE. Such an environment would have to be free from time constraints, free from fixed times scales and restricted practices and box ticking!
What is this leading to?
Be Super would like to trial a 12-18 month VFP /Madiba initiative.
We would work with all adults/staff as well as young people WITHIN A SPECIFIC TRIAL ENVIRONMENT.
It's aim is:
to maximise the integrity of each individuals emotional, social, moral and spiritual energy field and intelligence  – leading to improved well-being
to nurture a larger environmental magnetic energy field for the location
to improve learning and life skills for the young people and adults
to further develop the benefits of this to create a much larger magnetic energy field of truth and positivity.
You can T.E.S.T. this out:
This could be presented as an alternative educational initiative and thus provide funding towards its undertaking. More here . . .
This could also be supported by the set up of an additional self-funding VFP/Madiba initiative for further expansion.
To find out more and ask any questions or arrange a meeting:
Or simply enter your email address below to register as a FREE PROVISIONAL VFP Member – we will then be in contact.