Marcus Pearson (the co-founder of Be Super Ltd) is proud to be a Quest 79 Member & Inner Gold Guide.
Be Super have created their own Quest 79 Challenges:
Both of these may be started from the 1st August or at any time after – register in advance so you can start preparing and fundraising . . .

Challenge 1 seeks to inspire people to have more "Positive Interaction"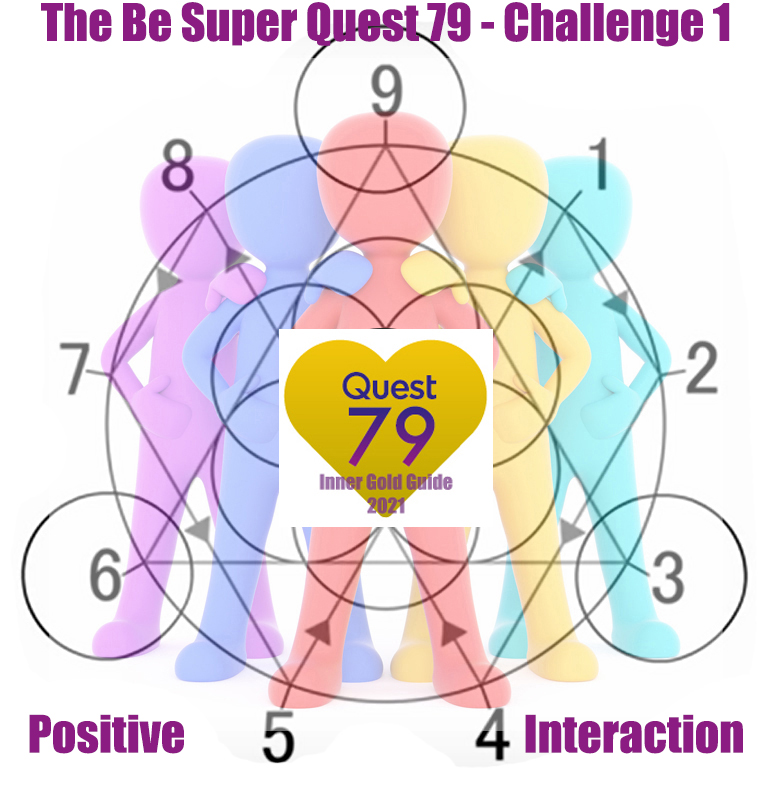 "This challenge is to be silent and still for 7.9 mins (8mins) per day for 79 consecutive days – this will help you connect better with your own inner gold being. Then whilst doing this, think of a member of your family or a close friend who would particularly benefit from your support of "Positive Interaction".
What do you do in the challenge?
Use this daily period of silence and stillness to focus on your relationship with this person. Think of how you might change your lifestyle to include them more in your life. This challenge extends to socially contacting them at least once per week. On the day(s) you communicate, try to be positively involved in their life by listening more than speaking and by being positive with them. Try to find a way to speak and see them (use zoom or facebook – do whatever you need to do) – but commit to the challenge of "Positive Interaction." Our progressive aim is to inspire you to physically meet up with your chosen person / people and do something positive with them (then you can talk about it socially – lol).

The main aim of this challenge is to progress the silence  / stillness and positive social interaction into 'positive physical interaction' (to meet up and do positive activities with your family and friends).
The secondary aim of this challenge is for you to inspire your family and friend(s) to seek out someone else, so they do the same as you. When you chat to your chosen person about life, also talk about 'who they are supporting' and try to make a combined list of who 'everyone' is communicating with. Maybe you can all get together on zoom or even physically – we will be getting together on the 7th of the 9th  – those involved will be provided with the details!
The third aim of this challenge is to inspire you to communicate with more than one person on a regular basis. Be inspired and inspire others to do the same!
An underlying aim of this challenge is for you to communicate better with your inner gold self!?!
Why did we create this specific challenge?
According to longevity researcher Susan Pinker, an emphasis on 'close personal relationships and face-to-face interactions' are the top 2 factors for health and longevity (*1 more details from the link at the bottom of the page).

To support you with this challenge and to inspire ourselves we have created a discussion group within the app "ClubHouse" called "Be Super Quest 79 Challenge 1 Positive Interaction". Of particular focus is the aspect of silence and stillness as a tool for positive interaction with your own inner gold self. We will discuss the  benefits of integrating new technology and tools such as PEMF, HRV and SSP Therapy. We also provide discussion on how the Be Super experience called VFP#0 – Coherence further suports our own more specific top 7 factors – (*2 more on VFP#0 – Coherence from the link at the bottom)

Loving and positive relationships with other people.
Self-worth from purposeful pursuit.
Creative expression that allows you to be your individual inner self.
Spiritual connection with yourself and the spirit of others and a unified field.
Positive physical, mental and emotional connection with another individual.
Having a positive feeling of security and trust for yourself without feeling challenged by others.
Having a positive mental and emotional attitude.
If you accept this challenge please register below:

References:
(*1 – for more details on health and longevity click here)
(*2  – for more on VFP#0 – Coherence click here)
(*3 – for more details on our FREE VFP#0 – Coherence Experience Click Here)