Coherence in business and management may seem an unusual combination to many people, however, they are totally linked – especially for small business owners, managers and anyone interested in creating wealth or hitting targets (ticking boxes) and for those involved with people. In this post coherence simply means those things that we know about that are beyond our thoughts and actions – and yet UNITE US. Similarly, in this article wealth goes beyond financial gain, read on:
Individual and team performance is influenced by things beyond our thoughts and actions! 
Let us first consider individual and team performance, or put another way – how people feel and behave and how much of themselves they give to life and work and your business or organisation.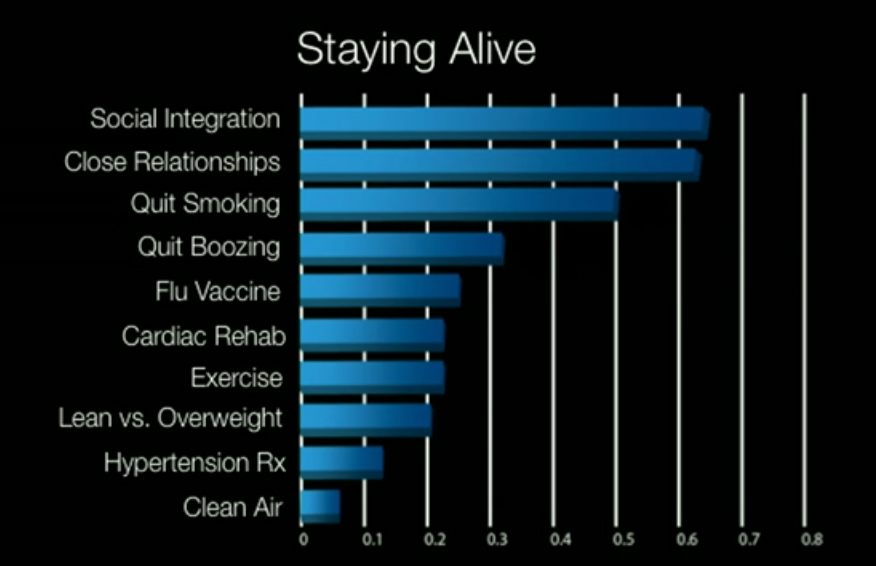 The infographic above is from an extensive scientific study that evidenced 'social integration and close relationships' have a bigger impact on health and longevity than even 'quitting smoking and quitiing boozing'. They also have a bigger impact on the 'feel good factor' that produce hormones in our body that make us feel good and be more positive – this is clearly good for individual and team performance, motivation and your small business / organisation. It is also something that can be influenced beyond our thoughts, simply by interacting. This feel good factor is real wealth or value.
This feel good factor and being in the flow zone only comes about when you can activate your PNS (Parasympathetic Nervous System). THIS IS WHAT BE SUPER SPECIALISE IN.
Such cohesion was recently witnessed at a building and maintenance company in Heywood, Manchester.
Armstrong Building & Maintenance had a weekly team meeting that simply energised their new Digital Marketing Manager. Business cohesion is not a phrase that jumps to mind – but it should . . .
It is proven that when people feel more positive and have good relationships they have less sickness and injuries and have less time off work – this is a benefit of Business Cohesion!
Social integration and close relationships are at the core of cohesion (positive social relationships don't need thought, they thrive when you are being pure and simple, non judgemental and open to change) –

Once you gain insights on being true to yourself and others, you realise that social integration and close relationships and the actions needed to enhance these are crucial to life and in raising your own 'harmonic resonance' – they are also crucial in recognising true wealth.
Social integration does not have to involve social interaction beyond work. It may be restricted to the work environement but can still be nurtured in a relaxed and positive manner.
Managers and Team Leaders need to be strong enough to build in this chill out time:
Finding the time to 'chill with work colleagues' and switch off from work for 15 mins is crucial and should be 'factored in to a SCP' (Scheduled Cycle of Positivity). On a personal basis I achieve this, however, whilst many of my colleagues within the educational/therapeutic environment I work in are an incredible team of committed individuals, with an incredible team ethic, they have little time available/allocated for 'self and inter social connection' – the solution is simple in theory – allocate specific 'inner-contact time'; however in practice it requires awareness from senior staff that this aspect could be improved.
The problem for managers and team leaders is they often have less time than anyone else. Clearly they are not working with 'ease' and will become anxious and stressed and this will in time result in staff having less time and staff experiencing more stress.
WHEN YOU ARE AT EASE AND EXPERIENCE COHERENCE WORK FLOWS BETTER.
Utilise the skills that staff want to use (THE SKILLS THAT ARE BEING SUPRESSED OR UNDER UTILISED) – discuss how staff feel so they can maximise their own value – it will result in a spread of work and more coherence. This good practice will then resonate with others and you will gain praise and you will start to get more done with less effort (without realising it). Happy staff resonate positive energy and this impacts on those they support and interact with. It improves relationships –  be at work with ease – aahhhhhhh …
Coherence overcomes financial reward and reduces stress:

When people raise their coherence and it resonates, then their inner frequencies progress from basic needs such as money and greed and self satisfaction. Higher frequency people become more 'business / organisation aware' and consider the needs of others more than their own.
Time out and social outings for staff and customers:
As an example of good practice, when small business owners, such as John Stott at Armstrong's, focus on the needs and desires of their customers and their staff, they modify how they do things for everyone's benefit. These thoughtful improvements are very important; in fact employees often work harder and longer if they are happy at work – and will often do so without any more financial reward.
Sometimes this focus may be as simple as giving someone the time to listen to their opinion or calling them into the office to be appreciative of their efforts. Imagine the boss actually listening to your thoughts on improvement and happiness at work – furthermore, imagine if the boss actually follows it up with action – this is what higher frequency people do – don't wait for those who are not interested to do nothing – take the positive action that you think and feel will work – do it because it is true and honest in its endeavour.
This type of interaction is what I used to do on a professional level as a management consultant, and it always made me smile that I was paid to report back with the solutions ('provided by employees that already knew the solutions'), especially as I often had to present it as my own ideas, sad but true – lol.
Organising time out and social outings or even fun competition for staff and customers is common practice with many organisations, it is often referred to as 'corporate entertainment'. This can be done wrong as easily as it can be done right. The most important aspect is to use this time as an opportunity to 'tune in to the staff / customer'. Does this have to be restricted to once or twice a year?
Do you dare go deeper – lol . . .
Dare you interact on a spiritual level as a business owner or manager?
For most people your spirit exists within you at a level that is beyond your psyche; which means it operates at a level beyond which you are aware – you have no senses with which to relate to it. So, with this in mind, how do you react on a spiritual level with staff and customers as a business owner or manager – and yes it does matter!
The following guidelines may help:
In order to connect spiritually you must have a purpose in life beyond that concerned with money and self glorification. Until you reach such a personal  point in your life then you will not be able to interact on a spiritual level with others – you may not think this holds you back – but 'tuning in spiritually creates ease in life' and puts you in the flow zone – and it can put others in the zone with you!
You must embrace work and pleasure and social activity as part of the same journey and harmonise them together. This does not mean you have to make your hobby your work, but it does mean you should find enjoyment and care about what you do and who you do it with – work should never generate negative energy (this means whatever stress it brings can be dealt with positively, so you are free from any burden).
You should not allow someone else to pressure you beyond a point that you can't overcome. You should embrace challenges and overcome them in a harmonious way with other people – this can more easily be achieved when everyone cares and communicates in an honest an open manner, and without any hidden agenda's. This means you have to be prepared to be honest and open with people and vice versa – encourage staff to be constructive / critical –  and listen to their perspective!
Recognise that the centre of everything in your world is YOU – also be aware that all that is positive and all that is negative and all that needs to be done – starts and ends with you – DO NOT WAIT FOR SOMEONE ELSE TO FIX OR UNBALANCE YOUR WORLD – OWN IT and be aware that everybody else who 'plays a lesser role' in your life's journey' also has their own agenda, in which the centre of the world revolves around them (you are a lesser role player in their life).
Coherence is when everyone is aware and is unified in their thoughts, emotions and actions. Success in business, especially for a business owner or manager should be about the holistic journey of improved understanding of other people's needs and wants. When people understand one another and help one another then life is easy and so is business / work.
When life and business / work is easy and stress free then your health and fitness will also benefit. When you and your staff and your customers body and mind are operating at a relaxed 'high frequency' and you feel good as individuals and feel good together, then and only then will your 'combined harmonic resonance' start tuning in on a spiritual level.
When you start interacting on a spiritual level as a business owner or manager then everything and anything is possible and enjoyable and easy.
This article was written by Marcus Pearson, I hope you found it of interest and a little more helpful than a sales pitch – spirituality is not religious – it is simply connecting with your true inner-self.
Please comment and share if this post resonated with you.
Kind Regards,
Marcus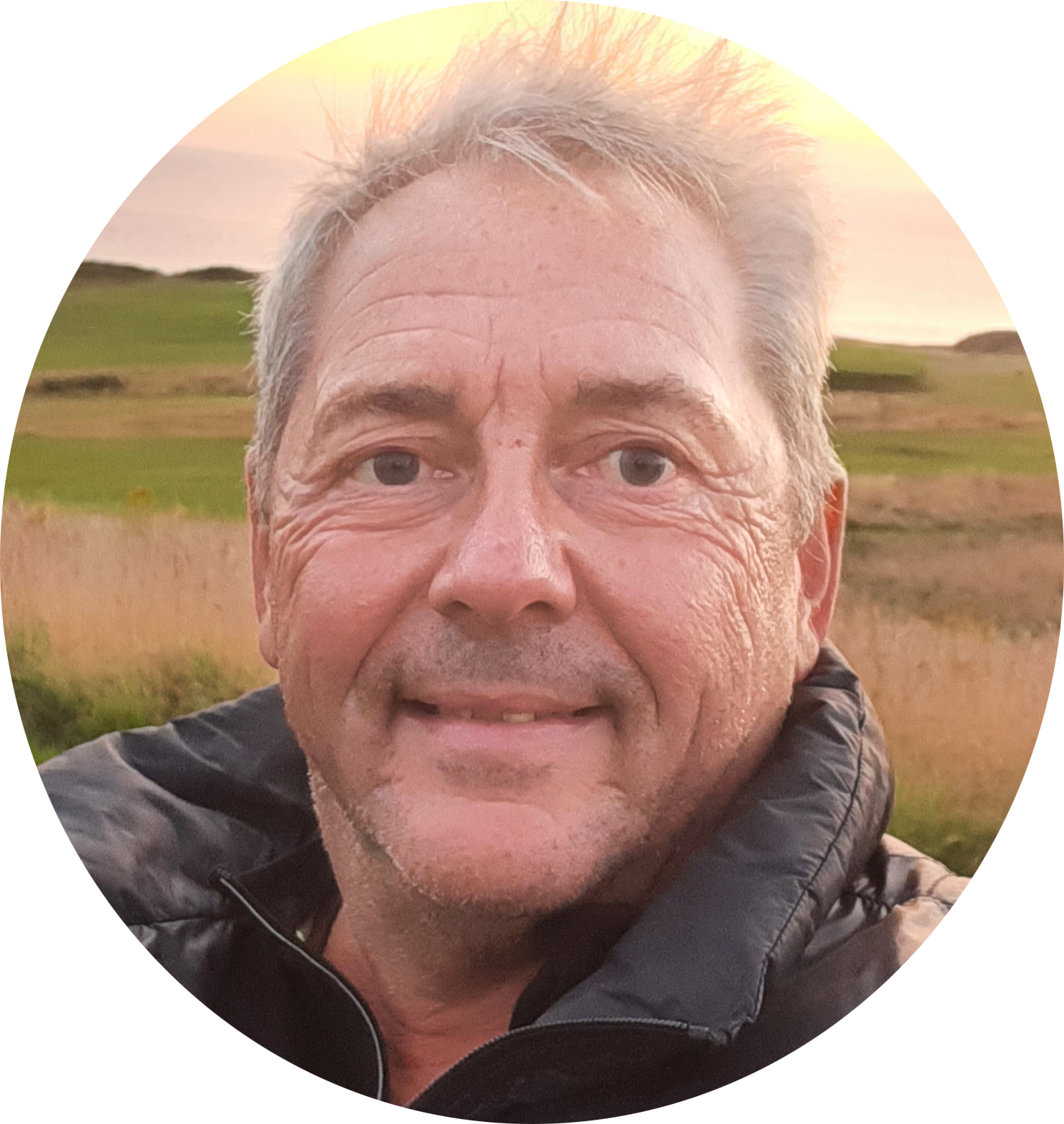 Marcus is focused on supporting others better interact with themselves and others.